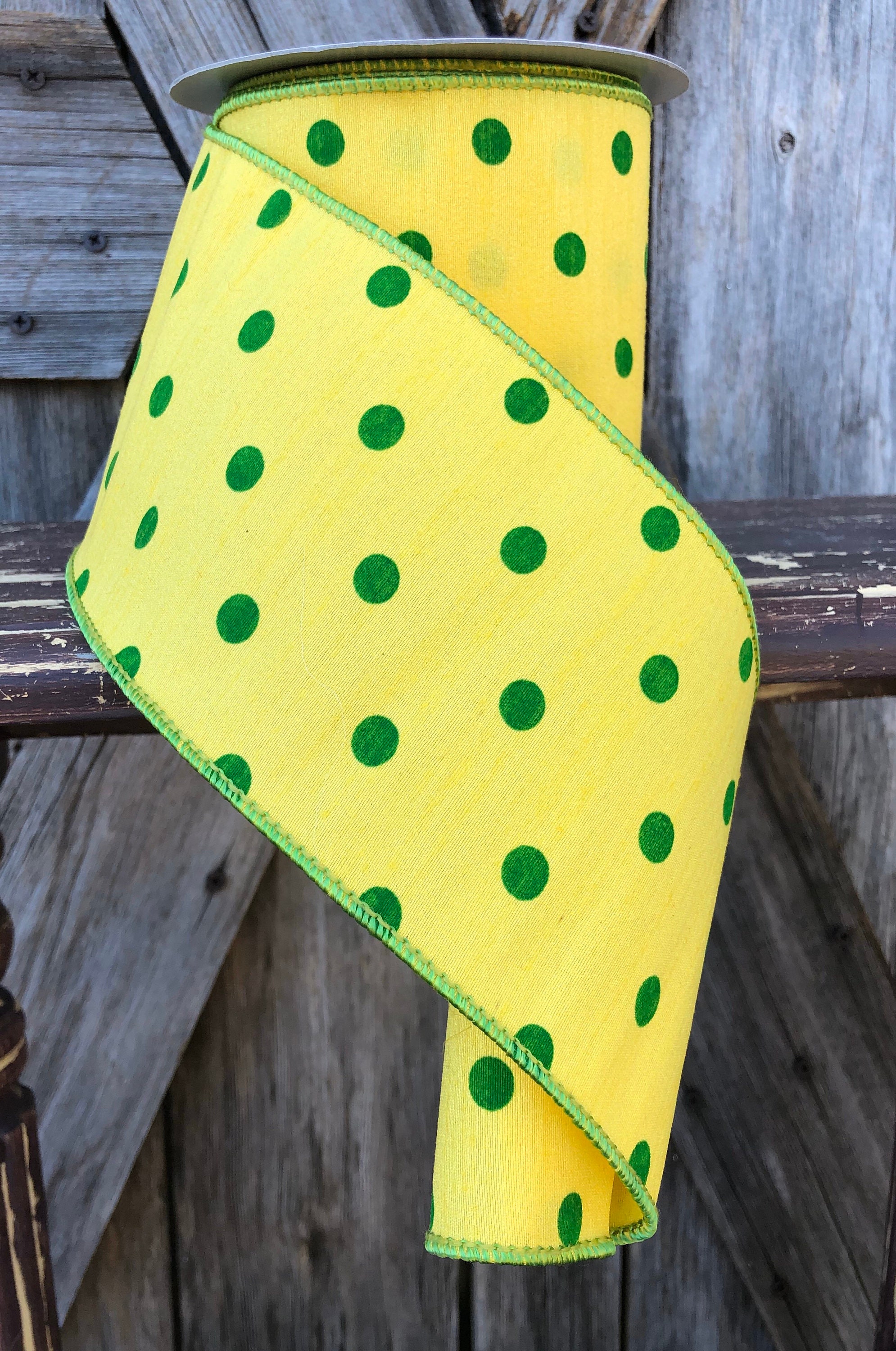 Wired Ribbon ~ 4 Inch Ribbon ~ Yellow & Green ~ 10 Yards
Yellow and green polka dot pattern creates a lovely bold statement to your home decor or project.

This listing is for 10 yards.

🌟🌟 4 inch ribbon

🌟🌟 Best Quality Ribbon

🌟🌟 Will ship out within 5 days

Thank you for purchasing from Ba Bam Wreaths.
Payments
I accept all major credit cards. All sales are final.
Shipping from United States
My wreaths are packaged/wired in with durable boxes for the appropriate size. I ship within the United States only. Items are typically shipped within 1-3 business days of purchase.
Refunds
Due to the nature of this product, I do not accept refunds. All purchases are final.
Additional
Weather Elements:
For the most part, the materials used in your wreath are considered durable to moderate outdoor exposure. I recommend hanging your wreath on a door that has an overhang to protect it. Unfortunately, over time, as with anything left outside in the sun, your wreath will fade. But you should get a few seasons out of your wreath before this happens. Most customers are okay with this as they typically want a change after 2 years.

Storing your Wreath:
Your wreath SHOULD BE STORED IN A CLIMATE CONTROLLED ROOM! Extreme heat or cold will cause decorations' paint to crack or peel, Styrofoam decorations to melt, and will cause expanding and contracting between grapevine branches which will cause the flower insertions to become loose. You will be a lot happier if you store your wreath in a closet as opposed to the attic or garage.

Absolutely gorgeous ribbon! High quality. Wonderful service from shop. Can't wait to design with this beautiful ribbon. Thank you!!!

Love all of Amy's gorgeous designer ribbons! Really a step up for my designs! Fast shipping and packed well!
Everything is arrived in great condition and fast. Amy always sells high quality products! I recommend BABAM WREATH!!