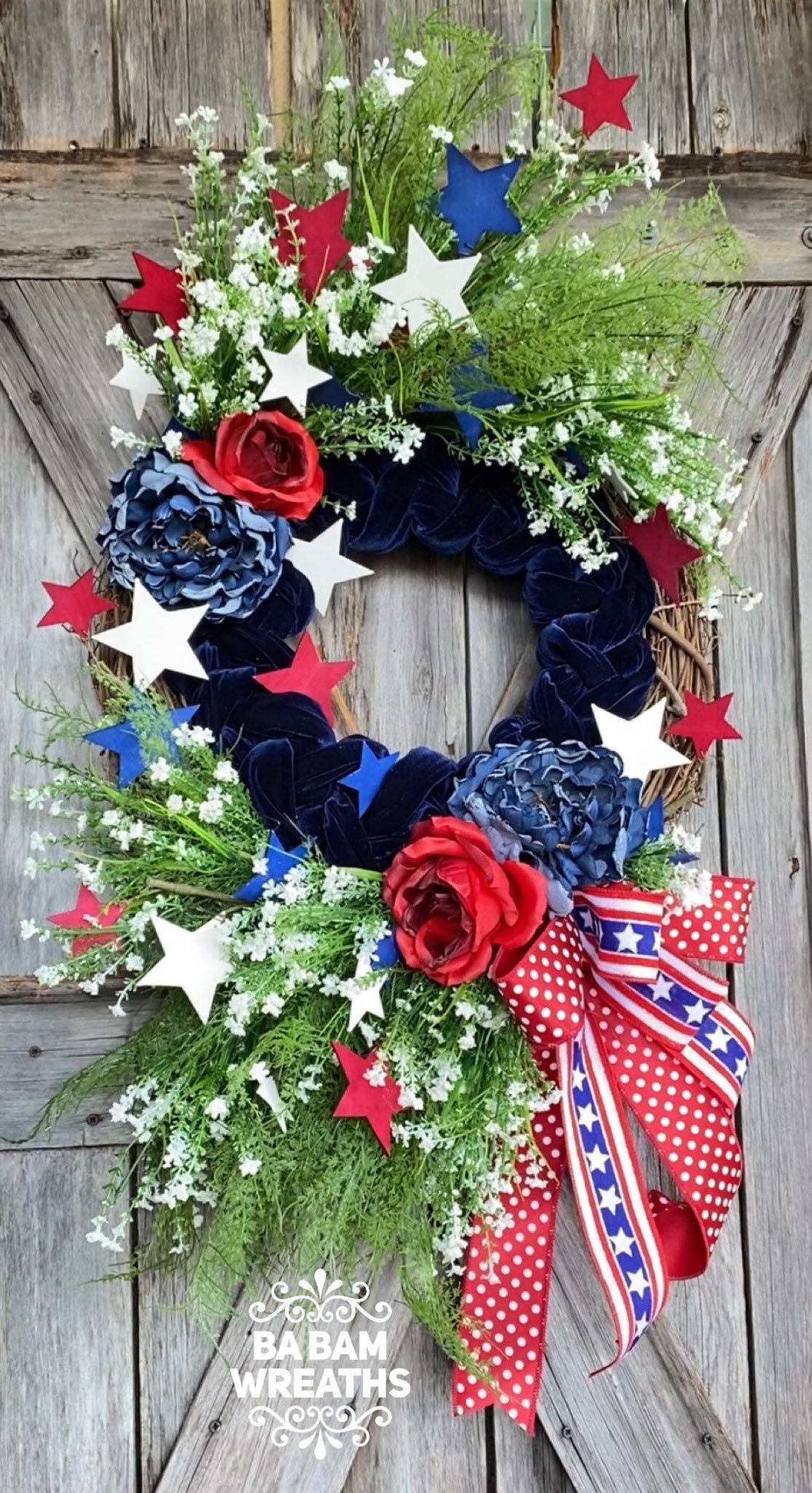 Patriotic Wreath for Front Door - Summer Wreath - Front Door Wreaths
$205.00
Patriotic Wreath for Front Door - Summer Wreath - Front Door Wreaths

God Bless America

Make your door even more inviting with this beautiful patriotic wreath in gorgeous red, blue and white. Handmade and meticulously designed with a coordinated collection of the highest quality ribbon and florals that work seamlessly together. A lovely mix of greenery, florals and an Americana bow bring it all together for a beautiful welcome.

As a long time wreath maker, I ensure that every aspect works perfectly with the others for the right balance, scale and aesthetics, using only the hightest quality materials so that it will last season to season. Measures XL at 37 by 22 inches and ready to ship in 3 days. Handmade in the USA.

Thank you for shopping at Ba Bam Wreaths!
Payments
I accept all major credit cards. All sales are final.
Shipping from United States
My wreaths are packaged/wired in with durable boxes for the appropriate size. I ship within the United States only. Items are typically shipped within 1-3 business days of purchase.
Refunds
Due to the nature of this product, I do not accept refunds. All purchases are final.
Additional
Weather Elements:
For the most part, the materials used in your wreath are considered durable to moderate outdoor exposure. I recommend hanging your wreath on a door that has an overhang to protect it. Unfortunately, over time, as with anything left outside in the sun, your wreath will fade. But you should get a few seasons out of your wreath before this happens. Most customers are okay with this as they typically want a change after 2 years.

Storing your Wreath:
Your wreath SHOULD BE STORED IN A CLIMATE CONTROLLED ROOM! Extreme heat or cold will cause decorations' paint to crack or peel, Styrofoam decorations to melt, and will cause expanding and contracting between grapevine branches which will cause the flower insertions to become loose. You will be a lot happier if you store your wreath in a closet as opposed to the attic or garage.